Lagonda0815

:

(21 May 2013 - 11:42 AM)

"Im off to see the Ozard, the wonderful Ozard of Wizz!
Because, because, because, because, becaaaause -
Because of the wonderful Wizz he does!"

Lagonda0815

:

(21 May 2013 - 10:58 AM)

"The Wonderful Ozard of Wizz"! ... YAY !

Night Heart

:

(21 May 2013 - 10:30 AM)

Look on the bright side.. you could always meet the great wizard Oz

Lagonda0815

:

(21 May 2013 - 10:01 AM)

Take care honey! I heard you got terrible winds over there right now ... (heavy winds I mean)

blu3

:

(21 May 2013 - 06:14 AM)

spontaneous kiss icon! ye shall be remembered xD

Dark Magicia...

:

(21 May 2013 - 06:07 AM)

Incase a tornado blows me away into the wind and throws me off at a distant unknown land... people... you must remember this emoticon -

Lagonda0815

:

(20 May 2013 - 11:12 PM)

you are showing obvious signs of addictions! Go see a doctor! ()

blu3

:

(20 May 2013 - 11:34 AM)

must.game.soon

blu3

:

(20 May 2013 - 11:34 AM)

Blackie! xD as of today I'm free again~

Lagonda0815

:

(19 May 2013 - 08:06 PM)

bah ... Christian bank-holidays are soo booring!

Soap DX

:

(19 May 2013 - 03:47 AM)

I when multiplayer games have radar...

Sonic Warrior

:

(19 May 2013 - 02:54 AM)

Bye you piece of fruit

Soap DX

:

(19 May 2013 - 02:53 AM)

Later Orange

Orange_kun

:

(19 May 2013 - 02:52 AM)

imma catch yall guys n gall later =p

Sonic Warrior

:

(19 May 2013 - 02:49 AM)

The olympics....

Sonic Warrior

:

(19 May 2013 - 02:49 AM)

Star wars, Indianna jones, Batman

Sonic Warrior

:

(19 May 2013 - 02:49 AM)

Its all the rage among those Video games

Sonic Warrior

:

(19 May 2013 - 02:49 AM)

I do

Sonic Warrior

:

(19 May 2013 - 02:49 AM)

Nah, too complicated, its fun to just break it than build it

Soap DX

:

(19 May 2013 - 02:49 AM)

don't tell me you don't know what lego is

Sonic Warrior

:

(19 May 2013 - 02:48 AM)

LEGO?

Soap DX

:

(19 May 2013 - 02:41 AM)

Gmod is more complex.

Soap DX

:

(19 May 2013 - 02:41 AM)

it's like Lego, in short.

Orange_kun

:

(19 May 2013 - 02:40 AM)

non tiz with blocks =p

Sonic Warrior

:

(19 May 2013 - 02:38 AM)

Sounds like a equivalent for garry's mod

Sonic Warrior

:

(19 May 2013 - 02:38 AM)

Is that a a Developer game like with a SDK and all that?

Sonic Warrior

:

(19 May 2013 - 02:37 AM)

Minecraft?

Orange_kun

:

(19 May 2013 - 02:36 AM)

I thoguht you have yo do something with the login

Soap DX

:

(19 May 2013 - 02:36 AM)

we dont use nothing particular, just the game itself.

Soap DX

:

(19 May 2013 - 02:29 AM)

well once your ingame, you go to multiplayer, and Blu3 gives you his address, and you join on his server.

Orange_kun

:

(19 May 2013 - 02:22 AM)

how do yall paly on the same sever ?

Soap DX

:

(19 May 2013 - 02:20 AM)

Well I got my copy of Minecraft from Blu3, but eventually I might buy the game.

Orange_kun

:

(19 May 2013 - 02:15 AM)

I gota get ah coppie nao ><

Soap DX

:

(19 May 2013 - 02:14 AM)

I haven't seen my threehouse in months, *sniff*

Soap DX

:

(19 May 2013 - 02:13 AM)

it's when Blu3 turns it on.

Soap DX

:

(19 May 2013 - 02:12 AM)

so in a way we have one, it's just not 24/7

Soap DX

:

(19 May 2013 - 02:12 AM)

blu3 started a server, me, him and Black Joker where playing.

Orange_kun

:

(19 May 2013 - 02:11 AM)

We gota make ah forum minecraft sever XD

Orange_kun

:

(19 May 2013 - 02:08 AM)

M-minecraft !!

Soap DX

:

(19 May 2013 - 02:05 AM)

well figured out my minecraft password for that free server. I guess it's been a month or 2 I didn't play. My house and everything in it is gone! like it was never there. Actually... there was 1 piece of wood. that's it.

Sonic Warrior

:

(19 May 2013 - 01:45 AM)

All in good time

Orange_kun

:

(19 May 2013 - 01:41 AM)

Life how does it work

Orange_kun

:

(19 May 2013 - 01:40 AM)

You have to get out see places talk to peoples

Sonic Warrior

:

(19 May 2013 - 01:38 AM)

I just have to let it happen how ever it happens.

Sonic Warrior

:

(19 May 2013 - 01:38 AM)

I have no plan. Im not a strategist on that. O_O

Orange_kun

:

(19 May 2013 - 01:37 AM)

check it XD

Orange_kun

:

(19 May 2013 - 01:37 AM)

http://i.imgur.com/7ZJtPh9.png

Soap DX

:

(19 May 2013 - 01:36 AM)

Plan's for getting a gal?

Soap DX

:

(19 May 2013 - 01:36 AM)

Paln

Soap DX

:

(19 May 2013 - 01:36 AM)

I'm supposed to meet some friend here, and just walk around.

Sonic Warrior

:

(19 May 2013 - 01:36 AM)

Yes I have

Orange_kun

:

(19 May 2013 - 01:35 AM)

Hey yall ever seen Fostershome for imaginaryfriends ?

Night Heart

:

(19 May 2013 - 01:34 AM)

or even just keep walking around and check out the place.. if someone comes up to you .. just say that you are looking for a good spot XD

Sonic Warrior

:

(19 May 2013 - 01:34 AM)

Plan. for what?

Night Heart

:

(19 May 2013 - 01:33 AM)

You could always go in and not order anything and leave if you don't like it XD

Night Heart

:

(19 May 2013 - 01:33 AM)

but then again I'm not too fond of the pungent smells of any alcohol >__>

Soap DX

:

(19 May 2013 - 01:33 AM)

crap I forget my password on this free minecraft server I was on.. I want to see what happend to my house after all this time.

Soap DX

:

(19 May 2013 - 01:32 AM)

meh, maybe it's not too appealing after all.

Night Heart

:

(19 May 2013 - 01:32 AM)

plus too much beer over there.. I can't stand the smell of beer

Soap DX

:

(19 May 2013 - 01:32 AM)

I wouldn't go all the time, just once to see what it's like. I guess I'd be to busy eating and chatting with friends to really check out any girls...

Night Heart

:

(19 May 2013 - 01:31 AM)

it still expensive probably not that much as a gentlemen or strip club

Soap DX

:

(19 May 2013 - 01:30 AM)

oh, alright. So what's the plan then Sonic?

Sonic Warrior

:

(19 May 2013 - 01:29 AM)

I was joking okay?

Soap DX

:

(19 May 2013 - 01:29 AM)

I've never been in a strip club either, and I'm not interested. But Hooters, it's like the PG version of a strip club, I think I might get a kick out of it.

Soap DX

:

(19 May 2013 - 01:28 AM)

Hey Night, if I wanted to go to Hooters would you go with me? I've never been, and I sorta want to go.

Night Heart

:

(19 May 2013 - 01:25 AM)

he should try Hooters

Soap DX

:

(19 May 2013 - 01:25 AM)

If you live in New York City, you have no excuses, a population so dense you're sure to find someone.

Soap DX

:

(19 May 2013 - 01:24 AM)

Sonic... cousins, no that just lazy, you can't go girl hunting in your yard.

Soap DX

:

(19 May 2013 - 01:20 AM)

oh boy, well I didn't watch the whole video, but Id think it would be a late night show.

Orange_kun

:

(19 May 2013 - 01:18 AM)

He said and I quote ""Tomas the mother f@cker ni&&er train"

Soap DX

:

(19 May 2013 - 01:17 AM)

lol

Orange_kun

:

(19 May 2013 - 01:16 AM)

Friends said this'll be the new show in 2014 XD

Soap DX

:

(19 May 2013 - 01:14 AM)

what... is this video...

Orange_kun

:

(19 May 2013 - 01:13 AM)

Oh that instant trule love/ become friends then love topic thingy ?

Orange_kun

:

(19 May 2013 - 01:11 AM)

-http://www.youtube.com/watch?v=ETfiUYij5UE-

Sonic Warrior

:

(19 May 2013 - 01:09 AM)

Sounds like you no interest in pairing up. Im just saying it sounded like you not trying to peruse a relationship

Sonic Warrior

:

(19 May 2013 - 01:08 AM)

Your post

Orange_kun

:

(19 May 2013 - 01:07 AM)

W-what gave you that idea D= oh gawd am I starting to sound emo @-@

Sonic Warrior

:

(19 May 2013 - 01:05 AM)

Do you like solitude, being alone, no interest in having company

Sonic Warrior

:

(19 May 2013 - 01:05 AM)

Are you a loner

Orange_kun

:

(19 May 2013 - 01:03 AM)

Hmm ? meaning ?

Sonic Warrior

:

(19 May 2013 - 12:55 AM)

Are you a hermit?

Orange_kun

:

(19 May 2013 - 12:54 AM)

Thought I already did D=

Sonic Warrior

:

(19 May 2013 - 12:52 AM)

How bout posting in the school teacher then?

Sonic Warrior

:

(19 May 2013 - 12:52 AM)

Good, now thats over

Orange_kun

:

(19 May 2013 - 12:52 AM)

Even I found that distasteful

Sonic Warrior

:

(19 May 2013 - 12:51 AM)

Im joking, that was so wrong of me.

Sonic Warrior

:

(19 May 2013 - 12:50 AM)

Well cousin do get lot more attention. You have to admit, you see some girl you like and there cousin is near by, you be getting with her, 40% chance maybe

Orange_kun

:

(19 May 2013 - 12:49 AM)

!! !! !! HOW DARE YOU. Talking about cousin in such lol

Orange_kun

:

(19 May 2013 - 12:48 AM)

=3

Sonic Warrior

:

(19 May 2013 - 12:48 AM)

Uhhh huhhh.... Yeah I stick with Pineapples

Orange_kun

:

(19 May 2013 - 12:47 AM)

Its Oooorange, its Oooorange, its better than bad its good ! Everybody need an Oooorange

Orange_kun

:

(19 May 2013 - 12:47 AM)

Its Oooorange, its Oooorange, Its round, its heavy, Its juice!

Sonic Warrior

:

(19 May 2013 - 12:45 AM)

And you leave my mind puzzled.... again O_O

Orange_kun

:

(19 May 2013 - 12:43 AM)

As you can tell in my world this is no yei no nei ! Only Mantic Orange !

Sonic Warrior

:

(19 May 2013 - 12:42 AM)

Its a yes or no question dude LOL

Orange_kun

:

(19 May 2013 - 12:42 AM)

Hmm I was really in a null status at that time . . kinda still am, but if I'd say my most favorite female teacher was erm Mis.LuKong

Dark Magicia...

:

(19 May 2013 - 12:41 AM)

Aww poor baby monkey Dx

Sonic Warrior

:

(19 May 2013 - 12:40 AM)

Did you have one?

Orange_kun

:

(19 May 2013 - 12:39 AM)

Not saything its a bad thing or nothing just suprised

Sonic Warrior

:

(19 May 2013 - 12:38 AM)

I admit I did

Sonic Warrior

:

(19 May 2013 - 12:38 AM)

Some people have them... right?

Orange_kun

:

(19 May 2013 - 12:37 AM)

You had one of those ?

Sonic Warrior

:

(19 May 2013 - 12:37 AM)

School teacher crush?

Orange_kun

:

(19 May 2013 - 12:37 AM)

T-thats going a little to far

Sonic Warrior

:

(19 May 2013 - 12:36 AM)

To post in?

Sonic Warrior

:

(19 May 2013 - 12:36 AM)

New Topic?

Dark Magicia...

:

(19 May 2013 - 12:35 AM)

But still... I think a child should not be french/food-kissed Owo'

Orange_kun

:

(19 May 2013 - 12:35 AM)

Anyone got a new topic =p

Orange_kun

:

(19 May 2013 - 12:35 AM)

Theres kissing and then French kissing (saliva transferd)

Sonic Warrior

:

(19 May 2013 - 12:33 AM)

Or so I heard...

Sonic Warrior

:

(19 May 2013 - 12:32 AM)

Kissing reduces anxiety and stops the "noise" in your mind. It increases the levels of oxytocin, an extremely calming hormone that produces a feeling of peace.

Orange_kun

:

(19 May 2013 - 12:30 AM)

aww cripes

Orange_kun

:

(19 May 2013 - 12:30 AM)

Here -http://www.youtube.com/watch?v=ixQbCXLUUj8-

Dark Magicia...

:

(19 May 2013 - 12:29 AM)

Hmm... makes sense. But I think the message would go through even better if some other form of sensory perception was employed :3

Orange_kun

:

(19 May 2013 - 12:28 AM)

look it up

Orange_kun

:

(19 May 2013 - 12:28 AM)

Kissing or to be French horr horr can transfer a type of code though the taste buds

Sonic Warrior

:

(19 May 2013 - 12:26 AM)

And if its gross, don't say anymore please....

Orange_kun

:

(19 May 2013 - 12:25 AM)

Anyone see that coming ? eh eeeh

Sonic Warrior

:

(19 May 2013 - 12:25 AM)

What the heck you talking bout O_O

Orange_kun

:

(19 May 2013 - 12:24 AM)

Yep

Orange_kun

:

(19 May 2013 - 12:24 AM)

Did you know that a male/Females saliva can be used as an aphrodisiac?

Sonic Warrior

:

(19 May 2013 - 12:23 AM)

Whats next? Vampires are real? People can control there luck?

Dark Magicia...

:

(19 May 2013 - 12:23 AM)

You have no idea Sonic...

Dark Magicia...

:

(19 May 2013 - 12:22 AM)

Girls don't fart Orangey x3

Sonic Warrior

:

(19 May 2013 - 12:22 AM)

You all sound like you have magic powers or something

Sonic Warrior

:

(19 May 2013 - 12:22 AM)

Food can manipulate women?

Dark Magicia...

:

(19 May 2013 - 12:21 AM)

You're sly cause you manipulate women with food and groping

Sonic Warrior

:

(19 May 2013 - 12:21 AM)

Thats what I expect

Sonic Warrior

:

(19 May 2013 - 12:21 AM)

Oranges!

Orange_kun

:

(19 May 2013 - 12:21 AM)

I am the mantic Orange kun what did you expect ?

Lagonda0815

:

(19 May 2013 - 12:20 AM)

Stinky Winkie!

Sonic Warrior

:

(19 May 2013 - 12:19 AM)

JOKE KILLER your a joke killer O_O

Orange_kun

:

(19 May 2013 - 12:19 AM)

how was that =D

Orange_kun

:

(19 May 2013 - 12:18 AM)

That awkward moment when you reach in to grab their bum, they get scared for ah sec n fart

Sonic Warrior

:

(19 May 2013 - 12:18 AM)

O_O

Lagonda0815

:

(19 May 2013 - 12:18 AM)

O-Kun and Kitty: keep up the grope-talk after I left! I get the feeling that Sonic is up for it!

Lagonda0815

:

(19 May 2013 - 12:17 AM)

"sly thing"??? ... YOU inslting me?

Sonic Warrior

:

(19 May 2013 - 12:17 AM)

Well maybe the grope talk will end since the Grope-anator is leaving

Lagonda0815

:

(19 May 2013 - 12:17 AM)

after all: one of the guys from YMCA was a construction-worker!

Dark Magicia...

:

(19 May 2013 - 12:17 AM)

Buhbye you little sly thing you x3

Night Heart

:

(19 May 2013 - 12:17 AM)

:byeb:

Lagonda0815

:

(19 May 2013 - 12:16 AM)

In that case the conversation might take another turn, but it will nevertheless be a worthwhile experience you might have a good deal to think about afterwards ... ()

Soap DX

:

(19 May 2013 - 12:16 AM)

cya laggy

Sonic Warrior

:

(19 May 2013 - 12:16 AM)

Later grope-Anator

Lagonda0815

:

(19 May 2013 - 12:16 AM)

oh well ... its gotten late ... Im better off to bed now ! See you guys around!

Dark Magicia...

:

(19 May 2013 - 12:16 AM)

Unless he ends up loving it....

Soap DX

:

(19 May 2013 - 12:15 AM)

.hentai section of course

Lagonda0815

:

(19 May 2013 - 12:15 AM)

If you wanna get into a more "intresting" conversation you should go for the biggest road-construction worker you can find, and grope his hairy ass ... you might get into an argument that adds to your once-in-a-lifetime experiences!

Orange_kun

:

(19 May 2013 - 12:15 AM)

Not sure where to post next . . . any suggestions ? =p
Page 1 of 1
You cannot start a new topic

You cannot reply to this topic
Alucard AMV

Hellsing OVA
Posted 13 March 2008 - 05:54 PM
http://www.youtube.c...h?v=DMtpOrC1cA8
I hope you guyz like it
Its my first in Adobe Premiere.
---
Posted 15 March 2008 - 01:44 AM
It was rather.. well it was decent, I'm a much more harsh reviewer though, I believe if you truly want to make something great, you have to put the time into it, and since it's your first, I won't be that harsh
Your time was there in a small amount of it, but other then that it was basically none existant. If you want to know what I mean, watch this AMV
http://youtube.com/watch?v=o2W4b6WnJlY
The timing in that AMV is superb.
Next is relating the songs to what is shown, this is something that's very hard to explain and is best to be learned. But basically it's to relate what's being shown to how the song is going. This AMV does it very well.
http://youtube.com/watch?v=JkHPKg6UEs4
I know it seems mean, and somewhat dumb to link to other AMVs and say learn from that, but it is a really good way to learn, and it helps you out greatly, if you can match both the timing and the "story" in a the AMV, you can make something truly amazing things.
For those who RP with me, NEVER control my characters or I will just disregard the post, this just serves as a warning.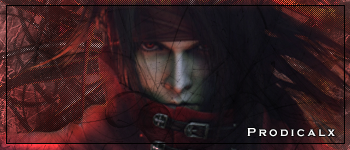 ---
Posted 09 May 2008 - 09:01 PM
video is not bad ... I love helsing anime

---
Share this topic:
Page 1 of 1
You cannot start a new topic

You cannot reply to this topic
---
1 User(s) are reading this topic

0 members, 1 guests, 0 anonymous users